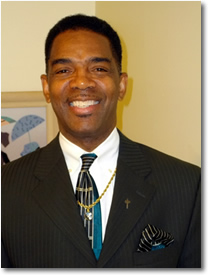 EAT AND RUN, NFP RESTAURANT
is a Ministry of Gilgal and the Manager and Directo is Pastor Charles Davis, Jr.
(pictured to the left)
* * * NOTICE TO OUR CUSTOMERS
EAT AND RUN NFP
A GILGAL MINISTRY - AT 1733 WEST 87th STREET
HAS NOT MOVED AND IS NOT AFFILIATED WITH
ANY OTHER RESTAURANT FRANCHISE.
We ask that you continue to support us as you have
in the past . . . we do appreciate your business!
Enjoy that same great taste you have loved in the past,
our pleasant staff, the improvements that are in
progress and our newly expanded menu.